In questo momento sono sulla sdraio, il rumore del mare che mi accarezza l'anima e il sole che mi riscalda mi fanno compagnia, intanto che metto giù queste righe. Si sta proprio bene in Calabria, mare bello, buon cibo, buon vino e tanta voglia di aggiornare il blog raccontando sempre le novità che accompagnano le nostre giornate.
In questo post volevo parlarvi della nuova collezione che troviamo da Kiko :
Sunshine Collection!
Labbra da baciare: Rossetto duo Collistar!
Io mi sono subito precipitata nei negozi in corso Buenos Aires e mi sono limitata ad acquistare solo 3 prodotti della nuova linea: due rossetti e una crema colorata.
Con l'arrivo dell'estate uso sempre meno il fondotinta, avendo una pelle senza grosse imperfezioni me la cavo anche solo con la crema colorata che mixo insieme alla mia crema da giorno idratante, poi stendo tutto sul viso e uniformo con l'aiuto del pennello, un minimo di cipria per opacizzare  e fissare il trucco e via.
Negli ultimi anni ho rivalutato il fascino e il potere dei rossetti, sarà che a 30 anni mi sento abbastanza grande da osare sia di giorno che di sera 🙂 . Devo ammettere che quando ero più piccola compravo sempre una valanga di rossetti, ma quelli dai toni accessi facevo fatica a portarli di giorno, mi sembrava esagerato.
Quando si dice il fascino dell'età 🙂
Hahahah si, è proprio vero che ora che ho compiuto 30 anni mi sento di poter osare di più, mi sono data il via libera ad usare e osare, quindi rossetti super colorati sia di giorno che di sera.
Ecco qui i due rossetti che ho scelto di questa collezione:
Rossetto nr 11 colore Soul Blackurrant (fuchsia deciso)
Rossetto nr 6 Lost in red
Design super accattivante, chiusura magnetica ed ergonomica, Logo KK  e colore puro.
La texture, cremosa e avvolgente, valorizza le labbra con un finish ultra brillante. Il rilascio del colore è pieno, la stesura scorrevole.
Lo trovo davvero un ottimo prodotto, non mancherà nella mia trousse.
Voi li avete provati? Come vi sembrano?
————————–
Right now i'm on deck, the sound of the sea that caresses my soul and the sun warms me make me company while I put down these lines. It lies in the Calabria well, beautiful beach, good food, good wine and a great desire to update the blog more and telling the news that accompany our days.
In this post I wanted to tell you about the new collection we find Kiko:
Sunshine Collection!
Kissable lips: Lipstick Collistar duo!
I have immediately precipitated in the ongoing shops Buenos Aires and I was limited to only buy 3 products of the new line: two lipsticks and a cream colored.
With the arrival of summer always use less foundation, having a skin without major imperfections me also only cable with colored cream that I mix with my moisturizing day cream, then lay everything on the face and conformed with the help of brush, a minimum of powder for matting and set makeup and go.
In recent years I upped the charm and power of lipsticks, which will be in 30 years I feel old enough to dare both day and evening :-). I must admit that when I was younger always buy a fresh avalanche of lipsticks, but those from the access tone was hard to take them during the day, it seemed exaggerated.
When you say the age charm 🙂
Hahahah it was really true that now that I've turned 30. I feel I can be more daring, I have given away free to use and daring, so super colorful lipsticks both day and night.
Here are the two lipsticks that I have chosen for this collection:
Lipstick nr 11 color Soul Blackurrant (fuchsia decided)
Lipstick nr 6 Lost in red
Super eye-catching design, and ergonomic magnetic closure, Logo KK and pure color.
The texture, creamy and enveloping, enhances lips with ultra shiny finish. The color release is full, the sliding writing.
I really find it a great product, will in my cosmetic bag.
You have tried them? As they seem?
-Blery-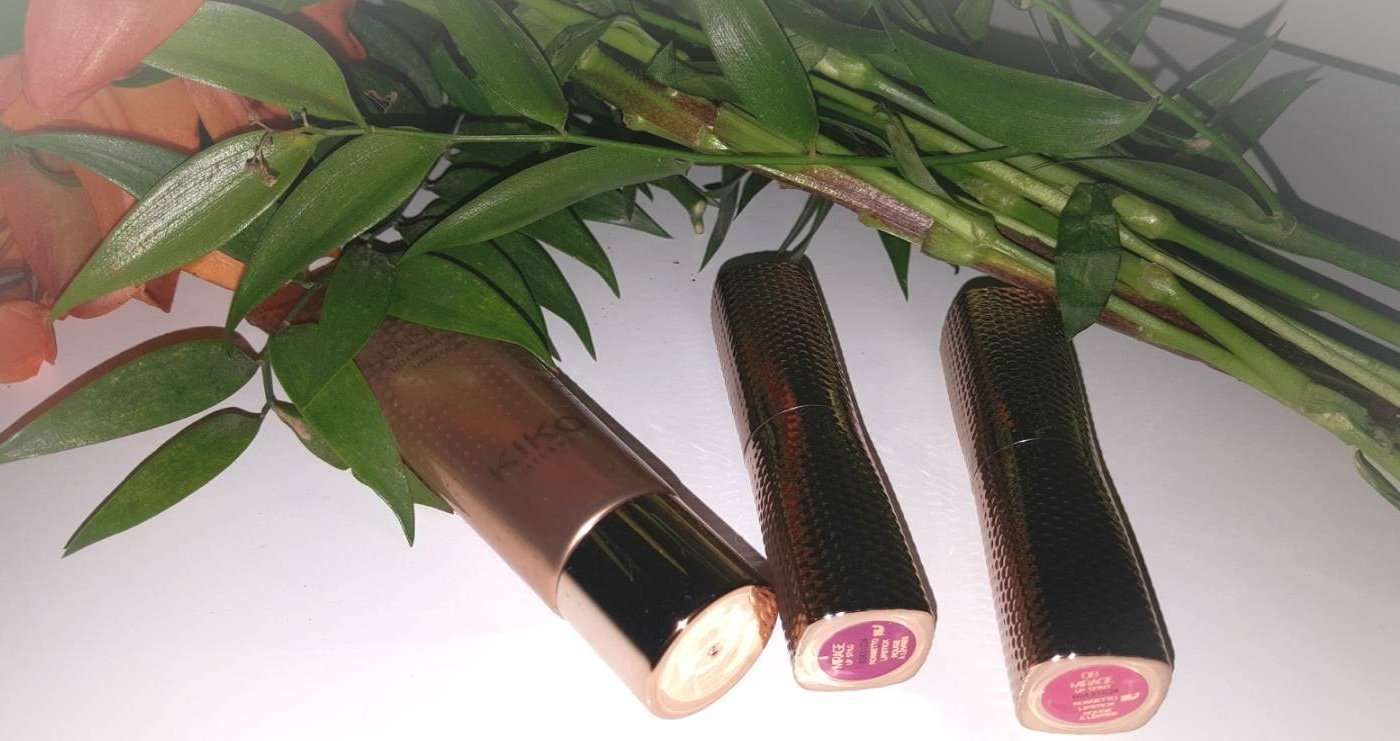 Seguiteci anche su:
INSTAGRAM / FACEBOOK / TWITTER / GOOGLE+ / PINTEREST
Per le nostre avventure di tutti i giorni ci trovate su Snapchat
missblery                                                                 beautyeliane